980°C RESBOND 940 CERAMIC ADHESIVES
Customisable CERAMIC ADHESIVE
$0.00 (exc. GST)
$0.00 (incl. GST)
Sold Out - Backorder Available
Lead time 2~3 weeks
RESBOND FAST-CURE CERAMIC ADHESIVE, 1000°C upwards
Just mix and apply. Cures in 5 minutes at 80°C, or in 16 hours at room temperature without any objectionable or toxic odours.
Rsbond 940 is specially formulated with a catalytic activator making it ideal for use in production applications.
It has excellent adhesion to ceramics, metals, glass, etc. and provides high electrical, thermal and shock resistance.
Used for sealing and assembling parts, encapsulate heating elements and forming electrically resistant coatings.
Users Report Resbond 940 encapsulates industrial heating elements and high temperature sensors.
Resbond 940 outperforms other ceramic adhesives and materials tested.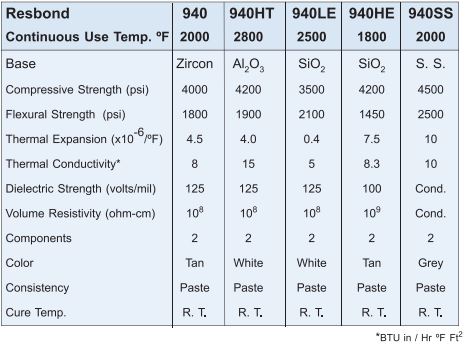 (940)
Be The First To Review This Product!
Help other Test Equip users shop smarter by writing reviews for products you have purchased.