The TIME 3221 is an advanced surface roughness gauge that is a comprehensive testing device. It is designed to allow testing of most test samples and surfaces - especially difficult to access and intricate shape work pieces.
A separate stylus housing connected by a long fly-lead, allows for measuring the roughness of inside or outside of bores on small diameter pipe or tube, stepped gears, o-ring grooves and recessed notches. Industry examples include measuring roughness of cylinder heads, engine block bore hone or brake discs in Automotive OEM; checking finish of rail track after refurbishment and machined finish on oil & gas pipe line flange faces to ensure correct fit and seal.
The TIME3221 uses a diamond tipped stylus that accurately traces the surface of the material by measuring the vertical deviations from a uniform centre line. It is able to display the results under many parameters including Ra, Rz, Rq, Rp, Rv, Rsk, Rmr to name a few.
The results are displayed on the large, high resolution colour LCD, including the waveform trace of the surface. Test results can be saved to internal memory and managed with the TimeSurf Windows software which is an optional extra add-on.
FEATURES:
Colour TFT LCD Touch Screen

USB and RS-232 data

Wide measuring range 400µm

Advanced roughness parameters

High accuracy inductance pick up

Separate stylus housing and fly lead for accessibility
Magnetic stand included to mount drive unit and assist with stylus positioning for precise measurement
The main display unit

S201 stylus and motor drive unit

Magnetic stand

Mains charger

Calibration certificate

Ra calibration specimen and specimen holder
There is also a range of optional styluses that can be purchased separately to enable testing on almost any surface even curved, recessed or small pin hole - see below for details.
SPECIFICATIONS:
| | |
| --- | --- |
| Maximum Travel | 17.5mm |
| Indicating Error | ±10% |
| Accuracy | ±6% |
| Measured Profile | Roughness, Waviness, Contour |
| Parameter | Ra (0.005µm-16µm) Rz (0.02µm-160µm) |
| Paramater | Rq, Rt, Rp, Rv, R3z, R3y, RzJIS, Rsk, Rsu, Rsm,Rmr, Rx |
| Filter | RC, PC-RC, Gauss, ISO13565 |
| Sampling Length "L" | 0.08mm, 0.25mm, 0.8mm, 2.5mm |
| Evaluation Length | (1-5)L |
| Interface | USB |
| Power | Built in rechargeable battery |
| Detection Principle | Current induction |
| Stylus Force | 4mN (0.4gf) |
| Stylus Angle | 90° |
| Calibration Template | included |
OPTIONAL STYLUSES: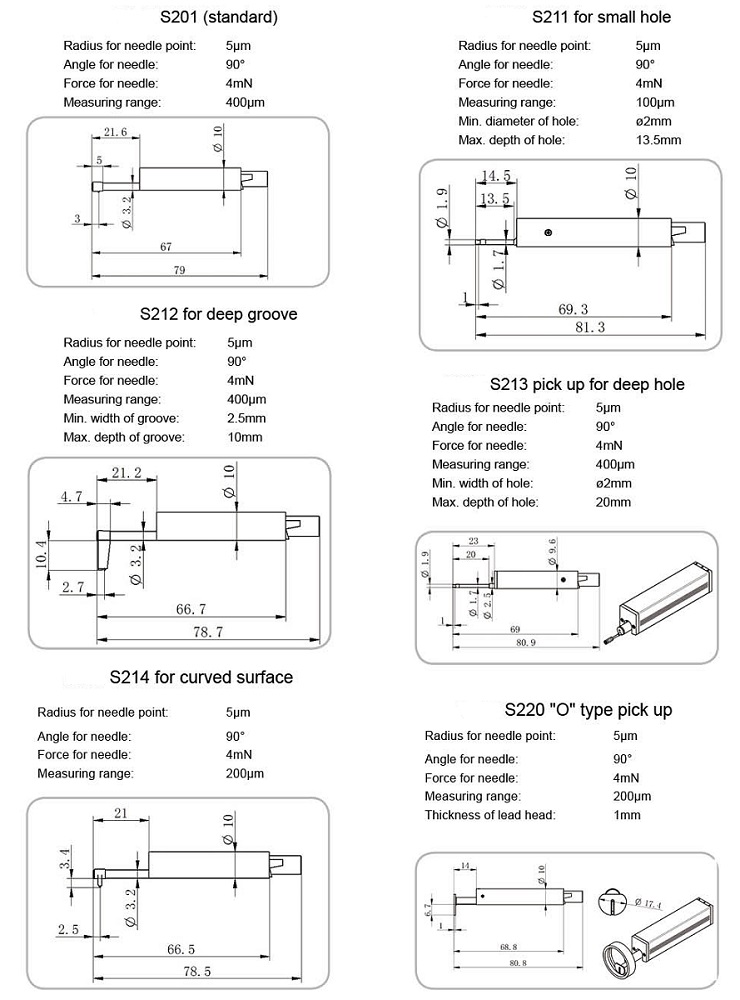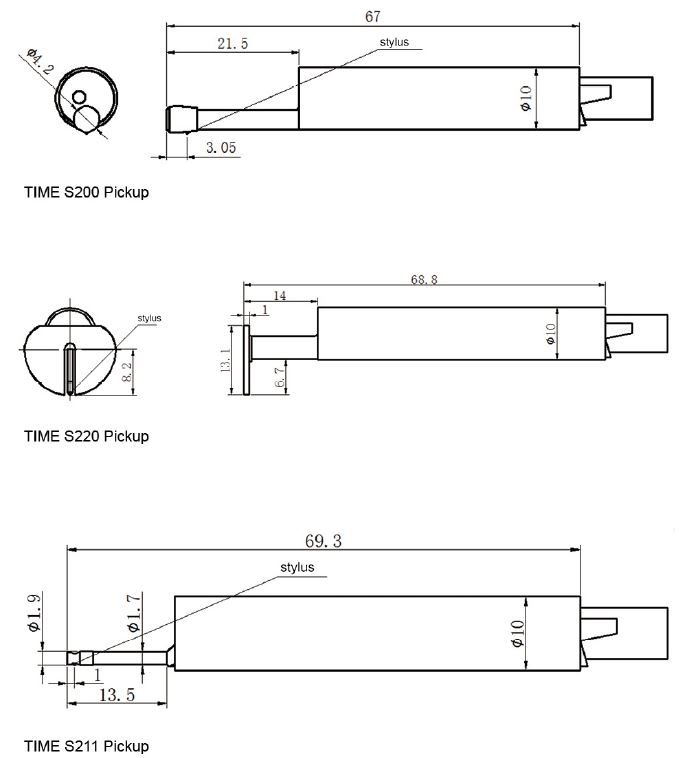 (TIME3221)
Be The First To Review This Product!
Help other Test Equip users shop smarter by writing reviews for products you have purchased.