THERMAX adhesive temperature strips are designed for surface temperature monitoring in applications across a wide range of industries.
They are commonly used as an inexpensive and simple diagnostic tool used to identify potential issues that can be indicated by the increase of an operating temperature. Noticing an increase of temperature on a component or in machinery can allow for preventative maintenance to be scheduled rather than having to shutdown as a result of failure.
The temperature labels work through a non-toxic chemical reaction and subsequent colour change once particular activation point is reached. The colour change is irreversible so that the strips indicate the highest temperature attained. The labels can be attached to almost any surface as they have a strong adhesive backing. This makes the labels ideal for temperature monitoring as you can apply the strip to the surface in question and come back at a later point to determine the highest temperature reached. This is particularly useful when gaining a live reading is not possible, such as an automotive engine, gearbox and rollers or bearings etc in a car, industrial machinery or aircraft.
There is a variety of different temperature points covered by a range of temperature strips. Where possible, good practice is to select a strip where the critical temperature is in the midpoint of the strip range. This will allow you to notice an approach temperature to your critical point and also data on how much the critical temperature point had been exceeded by.
FEATURES:
Irreversible (permanent record of peak temperature)

Oil, water and steam resistant

Adhesive backed

Small

Non hazardous

Packet of 10
Please

contact us

to discuss the options for your application
SPECIFICATIONS: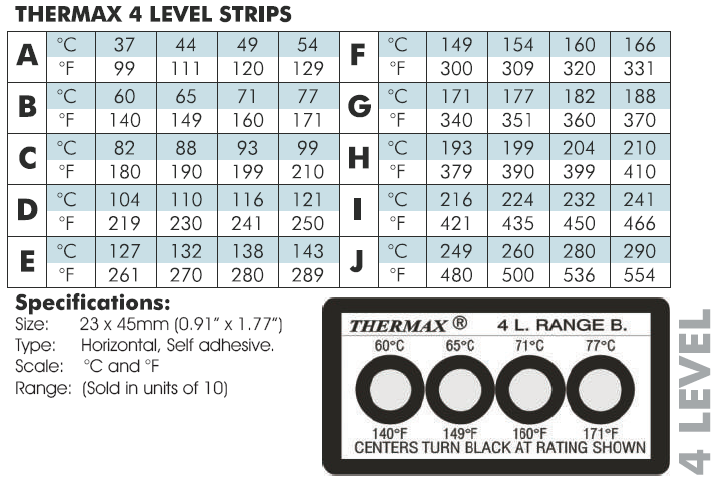 (04STHE)
Be The First To Review This Product!
Help other Test Equip users shop smarter by writing reviews for products you have purchased.