Digital Cap Torque Tester CTT-series by Starr instruments is designed to meet the testing requirements of bottling / capping processes, primarily in the pharmaceutical and food and beverage industries.
It is designed to measure the opening and/or closing rotational torque force in Newton-meters (N-m) for bottle and container, lids, caps and closures.
The purpose of torque testing is to find the right torque setting for your capping and bottling machine. Then check your production equipment is obtaining and repeating the correct result. Settings can then be adjusted for higher or lower torque accordingly.
The importance of such testing is illustrated by the example; If a consumer cannot open a soft drink bottle then they are unlikely to buy that soft drink. The opposite also applies inthat you do not want a lid to be so loose that it is too easy to open accidentally and allow the product to spill or spoil; i.e. cosmetics, medicines and chemicals. Safety and freshness seals can also be applied and checked for integrity.
Widely adjustable grips mean the CTT-series can also be used in other rotational force applications such as measurement of zoom and focus mechanism of camera lenses and other, non cylindrical containers such as those used for automotive fluids, motor oils and the like.
Built with a solid yet compact design, the CTT-series comes with a USB cable for data output to computer. Data can be displayed numerically or as a spectral torque curve graph.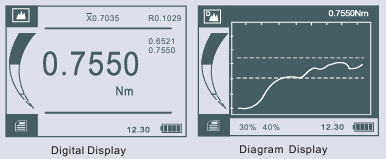 To use the cap torque tester, you clamp the jar or bottle in the feet (grips) of the tester. As you apply force to remove the lid or cap, the tester measures the torque measurements. Once the bottle or jar is opened the torque is no longer transmitted through the whole object and the measurements are complete.
The tester is able to take (and hold) the peak measurements; being the highest amount of torque and is also able to make tracking measurements to show the different levels of torque throughout the entire phase of opening the bottle or jar.
Should you need any further assistance please contact us.
FEATURES:
Solid base with thru holes for bench mounting

1,000 record data logger memory

Multiple measuring mode (live tracking, peak, peak-to-peak)

PC connect via USB

Wireless printing (with optional extra mini printer)

Data/diagram display mode

Other capacities are also available (5 N-m and 20 N-m)
SPECIFICATIONS:
| | |
| --- | --- |
| Accuracy | ±0.3% FS |
| Resolution | 0.01 N-m, 1 N-cm, 0.1 Kgf-m, 0.01 Lb-f, 0.1 Lbf-in |
| Selectable Units | N·m, N·cm, KgF·cm, LbF·ft, LbF·in |
| Clamping Range | Φ19.5 ~ Φ190mm |
| Display | Matrix LCD with LED backlight |
| Overload Capacity | 120% full scale |
| Measuring Mode | Track, Peak, First Peak, Preset, Double Peak |
| Sampling Rate | 2,000 Hz |
| Data Memory | 1,000 Readings |
| Power | Internal rechargeable batteries |
| Charger / Adapter | USB, mains AC 240V |
DIMENSIONS:
(CTT)
| | |
| --- | --- |
| SKU | CTT |
| Brand | STARR INSTRUMENTS by Test-Equip |
Be The First To Review This Product!
Help other Test Equip users shop smarter by writing reviews for products you have purchased.