315°C EPOXY RESIN DURALCO 4703
HIGH TEMP. CASTABLE TOOLING RESIN
$349.00 (exc. GST)
$383.90 (incl. GST)
In Stock
DURALCO "DURASEAL" HIGH TEMPERATURE, CASTABLE TOOLING EPOXY RESIN
Duralco 4703 is a composite of Cotronics' unique high temperature resins, metallic and ceramic particles.
It offers the ultimate stability and strength in high temperature environments.
Duralco 4703 has excellent resistance to most chemicals, solvents, acids and bases and is easily machined to close tolerances.
Applications include repairing and rebuilding worn or cracked composites, dies, fixtures, jigs, etc.
Users Report:
• Bond strengths over 3,000 psi are obtained at room temp. and 1,200 psi at 500ºF.
• 4703 retains over 85% of its tensile bond strength after 1,000 hours of service at 500ºF.
• 4703 seals high performance thermocouples for use in high temperature corrosive environments.
Duralco 4703 is ideal for use as a high temp. adhesive for bonding, potting, injection molding, matched dies, vacuum forming dies, extrusion dies and tooling.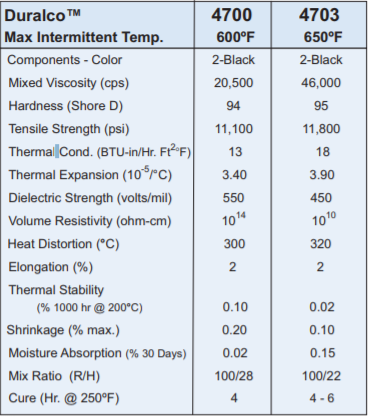 (4703)
Be The First To Review This Product!
Help other Test Equip users shop smarter by writing reviews for products you have purchased.