Ethylene Glycol Refractometer: Atago PAL-91S
freezing point / concentration
$540.91 (exc. GST)
$595.00 (incl. GST)
In Stock
In Stock
Atago PAL-91S digital coolant Refractometer.
Easily measure the concerntration and freezing pointy of coolant in brine and other agents of Ethylene Glycol.
Antifreeze solution (coolant) whose main ingredient is ethylene glycol, is widely used as mixed in cooling water of car's radiator, as cooling medium for air conditioning system, freezer, refrigerator, cooling coil, cooling fixture etc. The higher the concentration is, the lower the temperature at which ethylene glycol is frozen is. Therefore, it is needed to adjust freezing temperature of antifreezing solution so that it dose not freeze under a specific operation temperature. For Prolylene Gycol measurment, please choose model PAL-88S instead.
Features:
Scale: Ethylene glycol % (V/V)
Freezing point of E.G. (゚C)
Sample Temperature (

°C)

Resolution: Ethylene Glycol: 0.2% (V/V)
Freezing point of Ethylene Glycol: 1゚C
Sample Temperature: 0.1°C
Accuracy:

Ethylene glycol: ±0.4 %

(V/V);

Freezing point: ±1゚C

One touch measurement

Zero calibration with water

0.3ml sample requirement for measuring

3 second result time

Automatic temperature compensation

Battery operated (2 x AAA. Approx 11,000 measurements)

Compact and lightweight for portability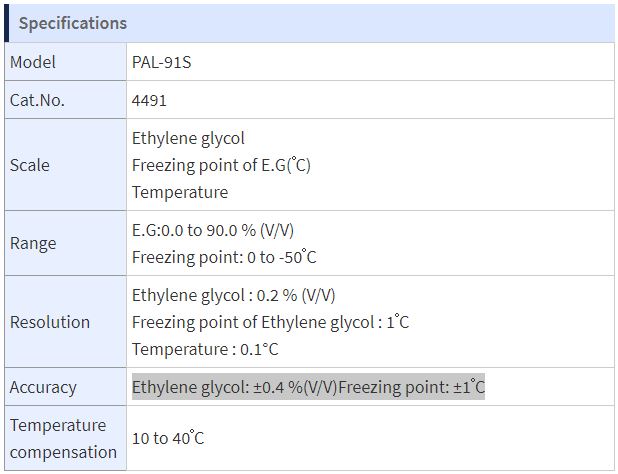 (PAL-91S)
Be The First To Review This Product!
Help other Test Equip users shop smarter by writing reviews for products you have purchased.