Digital 0.0-93% Brix Refractometer: Atago PAL-S
for fatty and/or dark samples
$1,195.00 (exc. GST)
$1,314.50 (incl. GST)
In Stock
Lead time 2~3 weeks
The Atago digital Brix Refractometer PAL-S measures in the range of 0.0 to 93.0% Brix (total soluble solids).
It is ideal for fatty and/or dark samples, such as dairy products. Also featuring "Mode S™", the solution to fluctuating measurement values due to high temperature samples, right up to boiling temeprature.
In comparison to standard models, the PAL-S improves repeatability of samples that cause inconsistent readings due to their dark or cloudy nature.
The PAL-S uses the "ATC" Automatic Temperature Compensation feature allowing samples from 10 to 100 degrees celsius to be measured. Hot samples should be measured more than once until the result stabilizes. To assist this, the PAL-S unit also includes the "Magic™" adapter which helps to cool down hot samples more quickly.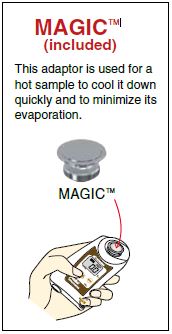 The PAL-S uses a minimal sample of just 0.3mL to test and gives a very quick result within 3 seconds.
Features:
Range: 0.0~93% Brix

Resolution: 0.1% Brix

Accuracy: +/-0.2% Brix

One touch measurement

Zero calibration with water

0.3ml sample requirement for measuring

3 second result time

Automatic temperature compensation

Battery operated (2 x AAA. Approx 11,000 measurements)

Compact and lightweight for portability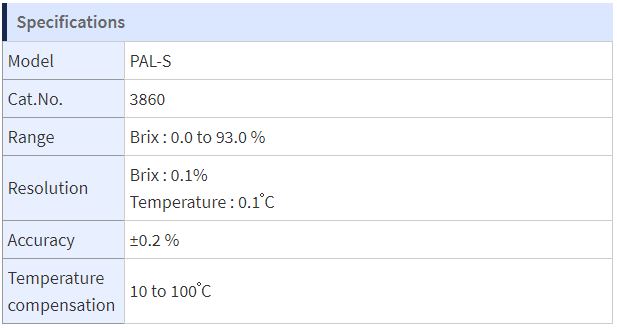 (PAL-S)
Be The First To Review This Product!
Help other Test Equip users shop smarter by writing reviews for products you have purchased.