Pycnometer 100mL Stainless Steel
$615.00 (exc. GST)
$676.50 (incl. GST)
Sold Out - Backorder Available
Pycnometers are used to establish the density of coating materials, other fluids and paste products.
The density (r) of a substance is the ratio of its mass (M) to its volume (v).
Unless specified otherwise, the density of the coating material is given at 20°C.
The density is given by measuring the weight of a full pycnometer and deducting the weight of the empty one.
The weight difference and volume are used to calculate the density.
The Erichsen Model 290 Pycnometer's consist of a container and lid with an overflow hole.
There are two versions available; one made of anodised aluminium and the other of stainless steel.
These Pycnometers are available in 100ccm and 50ccm versions.
Model 290 Pycnometer is applicable to the following International Test Standards:
DIN 53 217
ISO 2811
BS 3900:A 12
SIS 18 41 11
SNV 37 100
VDA 621-103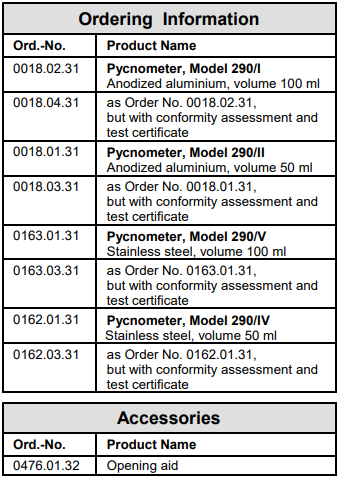 All models are supplied with a manufacturer's certificate M in accordance with DIN 55 350-18.
The volumes are determined by using distilled water as a test medium with tolerance 0.2%.
By extra charge models are available with a tolerance of 0.05%.
(290)
Be The First To Review This Product!
Help other Test Equip users shop smarter by writing reviews for products you have purchased.