Digital Fruit Firmness Tester: HPE-III Fff
Non Destructive Fruit Durometer
$3,184.50 (incl. GST)
In Stock
NEW MODEL
The new and upgraded HPE III Fff Digital Fruit Firmness Meter from Bareiss, Germany is used for measuring fruit firmness.
It is a non-destructive test method to determine the ripeness of fruit, vegetables and other food products.
The firmness of the pulp is a trustworthy indicator for the degree of ripeness a fruit presents and it allows for conclusions to be drawn about its freshness, storage and transport capacity.
With the digital handheld hardness tester HPE III Fff, you can assess the firmness of fruit and vegetables in a non-destructive manner, without peeling or cutting them. The fruits remain suitable for consumption even after the testing.
The hardness tester can be variably equipped with different indenters and therefore adapted to the state of the fruit and vegetable varieties.
A test anvil of nominal shape and size (user selectable) is pressed agasint the outer skin of the produce to provide a "firmness" reading between 0 and 100. The higher the value, the firmer (less ripe) the produce is.
This is a precision instrument made in Germany that will provide you a fully non-invasive test method means no wastage for sampling.
* Please note video above depicts preceeding model HPE-II gauge for reference.
The Bareiss HPE-III Fff is easy to use and is an indispensible tool for primary producers when checking a crop is ready for harvest.
It is also extremely valuable throughout the various stages of selling such as at the market for quality control and price setting, through to end user QA at the shop front. It allows the user to quickly ascertain ripeness without damaging the fruit by depressing a test anvil against the skin which measures the resistance against a controlled spring pressure.
To improve the accuracy of results, the HPE-III Fff is able to exclude measuring faults where there has not been a constant contact pressure.
A preset timer with visual and audio indication ensures that the test is completed correctly.
It is important to specify the type of fruit you are measuring as different fruits require different shape / size test anvils. There are five different anvils available and one (of choice) is supplied with the meter.
ANVILS:
Test Anvil 0.10cm² for peaches, apricots and plums

Test Anvil 0.25cm² for tomato and cherries

Test Anvil 0.50cm² for strawberries

Test Anvil Ball ø5mm for avocados

Test Anvil Ball ø2.5mm for carrots, cucumber and radish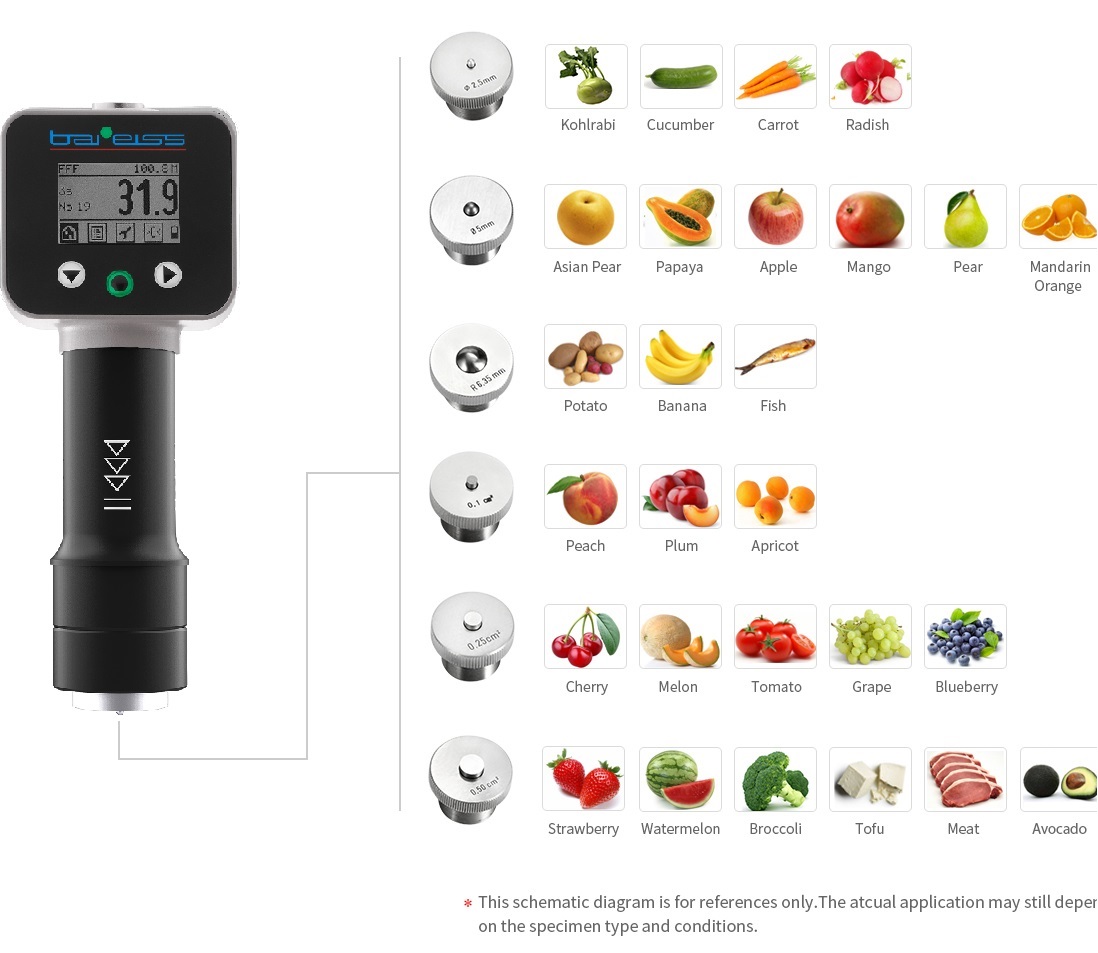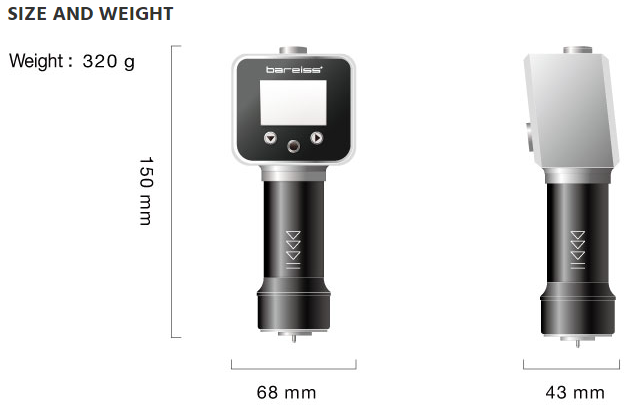 (HPE-IIIFFF)
| | |
| --- | --- |
| SKU | HPE-IIIFFF |
| Model # | fm12309 |
| Brand | Bareiss |
Be The First To Review This Product!
Help other Test Equip users shop smarter by writing reviews for products you have purchased.