Baume Wine Refractometer: Atago PAL-84S
° Baume
WAS $595.00
NOW $450.00 (exc. GST)
$495.00 (incl. GST)
Sale Ends in
00:00 am, 31 December 2023
In Stock
Free Express Delivery Available *
(Automatically applied @checkout when purchased with optional Pal-Jordan or PAL-Case)
The Atago "PAL" wine series Digital Refractometers are ideal for grape growers, wineries and co-operatives to determine the quality of raw produce including grape must before, during and after fermentation. They can also effectively estimate the final alcohol content.
The PAL-84S measures grape must using the Baume scale. This scale is based on density and was originally designed to measure the mass of sodium chloride in water. However in wine making, the Baume scale is used to measure sugar in grape must.
This unit has a measurement range of 0.0° to 21.0° and a measurement accuracy of ± 0.2°. Light and compact for indoor or outdoor use, this unit offers total portability. It can be washed up after use under running water quickly and safely.
Note: 1° Baume is the equivalent to approximately 1.8% Brix.
Also 1° Baume is roughly equivalent to 1% alcohol content when the wine is fully fermented.
FEATURES:
Measurement accuracy of ± 0.2

°

IP65 protection again dust and splashing water

Quick 3 second result time

Zero calibration with water

Minimal sample required (0.3ml)

Simple one touch measurement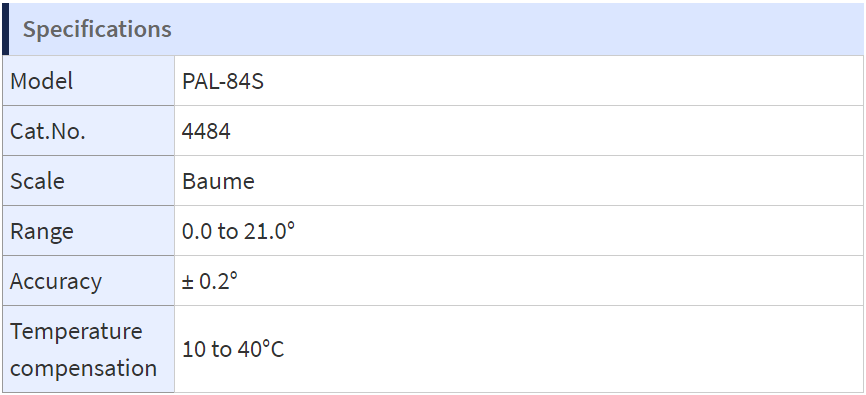 The other wine models available are:
PAL-79S measuring T.A.1990 (Titre Alcoometrique) 0~26%

PAL-80S measuring T.A.1971 (Titre Alcoometrique) 0~25%

PAL-83S measuring KMW (or Babo) 0~40°

PAL-86S measuring Oe (Germany) 0~240°and Brix 0~53% (dual scale)

PAL-87S measuring Oe (Oechsle) 0~240° and Brix 0~53% (dual scale)
(PAL-84s)
| | |
| --- | --- |
| SKU | PAL-84s |
| Model # | 4484 |
| Brand | Atago |
Be The First To Review This Product!
Help other Test Equip users shop smarter by writing reviews for products you have purchased.