Adhesion Test Apparatus: Model 525
pull-off adhesion tester
$0.00 (exc. GST)
$0.00 (incl. GST)
In Stock
Lead time 2~3 weeks
The Erichsen Model 525 measures coating adhesion using the peel strength according to standard ASTM D 4521.
The results of this test are generally not comparable to other adhesion test methods. Model 525 acts perpendicular to the coating and provides a tensile stress, where methods such as cross cut method use a shear stress.
Operation is simple. A test cylinder is stuck to the coating with an adhesive and the coating is pulled off under defined conditions. The tensile strength required for this and a visual inspection of the surface will provide the information required to determine the quality of the coating.
The Model 525 is made up of a circular housing with three legs containing a concentrically positioned compression spring. The housing is closed by means of a cylinder which has scales of reading the tensile stress. These components are coupled by a threaded spindle at the top end which is fitted with a hand wheel. A pin prevents the cylinder from turning relative to the housing. When the parts are screwed together the spring generates a force. The cylinder is pressed into the housing taking a pointer with it that holds that indicates the maximum force that was reached after the spring is released.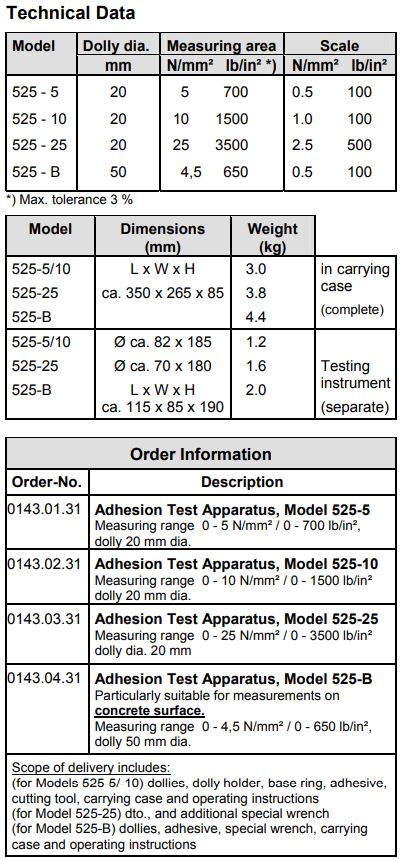 (525)
Be The First To Review This Product!
Help other Test Equip users shop smarter by writing reviews for products you have purchased.