Ultrasonic Portable Hardness Tester: SU410D
Ultrasonic and Leeb hardness tester
$3,995.00 (exc. GST)
$4,394.50 (incl. GST)
In Stock
The SU-400 combines both UCI and Leeb hardness testing in one portable hardness tester. It supports both the UCI measurement manual probes 1kg, 2kg, 5kg and 10kg and motorized probes 0.3kg and 1kg as well as the seven dynamic impact devices for Leeb measurement including D, DC, DL, D+15, C, E and G to do rebound measurements.
FEATURES:
◆ Perfect Accuracy — ±3% HV, ±1.5HR, ±3%HB.
◆ Microscopic Indentation — Only high-power microscope can observe the indentation.
◆ Quick Measurement — Result in 2 seconds.
◆ Large LCD Display — Directly display measurement result, times count, maximum, minimal, average and deviation.
◆ Friendly Operation — Operate well after short training.
◆ Promised Warranty — 2-Year warranty for main unit (Excludes Probe).
◆ Mass Storage — Save 1000 groups measurement data.
◆ Simple Calibration — Save 20 groups calibration data for invoking, improve calibration efficiency.
SPECIFICATIONS: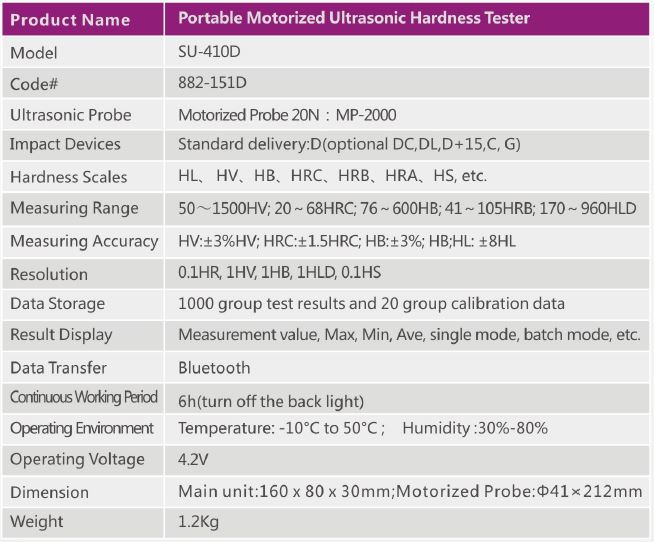 (SU410D)
Be The First To Review This Product!
Help other Test Equip users shop smarter by writing reviews for products you have purchased.