Grindometer acc to Hegman: Model 232
Measure the fineness of grind of coating materials
$0.00 (exc. GST)
$0.00 (incl. GST)
In Stock
Lead time 2~3 weeks
Grindometer acc to Hegman, Model 232, was developed to establish the fineness of grind of coating materials.
The instrument is used to produce a liquid wedge-shaped specimen of the test substance. It can be easily ascertained by visual inspection where the grain size is larger than the local dimensions of the wedge channel.
A reading of the channel depth where the boundary between the smooth and the uneven surface areas determines the fineness of the grind.
The Grindometer consists of a block of hardened steel which has been specially treated to ensure dimensional stability. Two precisely defined, wedge-shaped channels are cut into the block. The depth of each channel can be read off on a μm scale engraved into one of the longitudinal sides (length 125 mm) of the block. The corresponding Hegman scale (HS) is shown on the opposite side.
Standards: ISO 1524, EN 21 524, DIN 53 203, ASTM D 1210.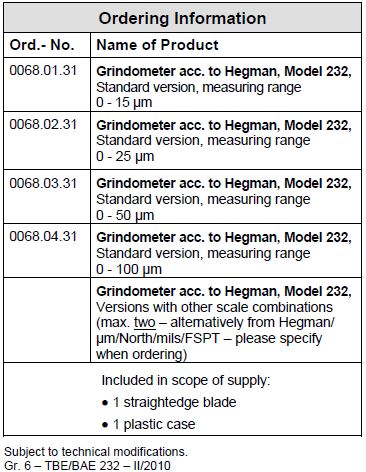 (232)
Be The First To Review This Product!
Help other Test Equip users shop smarter by writing reviews for products you have purchased.